Fraud Text Alerts
Our text alert service allows you to instantly keep tabs on suspicious card activity.  If our system detects suspicious activity on your card, you will receive a text message with details about the suspected transaction.  All you have to do is respond to the text with a "yes" or "no" to confirm or deny the transaction.  If you indicate the transaction is fraud, you will receive another message with a number to call for follow-up.  If not, you're all set.  The system will mark the transaction as legitimate and you can get on with your day.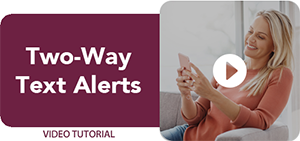 Fraudsters keep getting better.  They sometimes call, posing as bank employees or even fraud protection agents so that they can mislead bank customers into sharing debit card information that they need to commit fraud.
If you get a phone call from our automated fraud call center, you will be asked for your zip code.  If a transaction is determined to be fraudulent, you will be transferred to a fraud center agent who will ask you additional questions to verify your identity, and who will then review your recent transaction history with you.  You will NEVER be asked for your four digit PIN number or for the three digit security code on the back of the card.
If at any point you are uncertain about questions being asked or have received a message from our fraud alert system but are unsure about responding to it, hang up and call us directly for assistance.